Don't be mistaken: it's a living thing!
It is essential to realise that wood is a natural material with its own characteristics. Variations in wood grain, colour, knots and other naturally occurring characteristics are inherent to solid wood. We believe that these imperfections will only contribute to the charm of your table. As wood is a natural product, it will react to influences from its environment.
We want you to know this: it is perfectly possible and perfectly normal that your table changes over time. Because wood is a living product, you should however take in mind some precautions to ensure it will last as long as it is meant to do.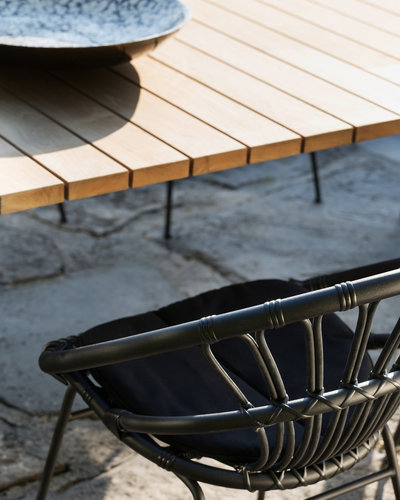 About teak
Teak is a deciduous hardwood tree and contrary to popular belief, comes from the highlands and not from tropical rainforests. No other wood shares teak's exceptional strength and durability. Its unique texture and leathery smell are due to its high oil content.
These characteristics, combined with the wood's high density, prevent warping and rot, allowing the furniture to stay outdoors in all conditions, without maintenance or preservatives.
However, just like any wood type, teak is a natural product and, because of this, fluctuations of temperature and humidity may cause surface cracking and in particular the end grains. This is normal and will not affect the durability or strength of the wood.
Maintenance
Left outdoors, untreated teak will adjust to the elements over the years and the colour of the wood will change to an attractive silver grey, aided only by an occasional washing with warm soapy water in order to discourage moss.
Still, untreated teak is not stainproof. Should you wish to fully protect your teak furniture against stains, you can apply a sealer. This is an invisible layer which will allow your furniture to go to a beautiful silvery grey while preventing any liquids from penetrating the wood.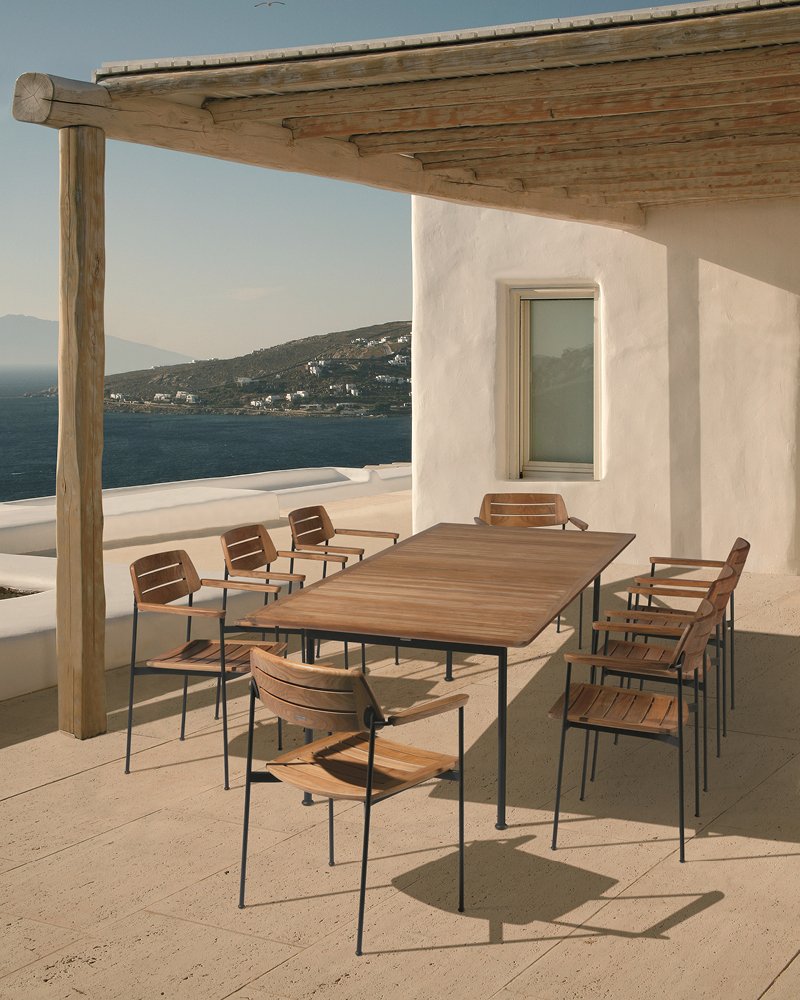 An occasional wash with soapy water will turn your furniture in a beautiful silvery grey
For daily care
Use a moist towel or sponge with a mild solution of water and natural, non-aggressive soap.
For a quick facelift
We recommend not to oil your teak furniture, then it will turn to silver grey over time. Cleaning the table every now and then with a moist towel and some natural soap will suffice. Clean your table once a year using soft soap.
However, should you choose to treat your teak furniture with a protective teak oil, we suggest sanding the furniture lightly before giving it a new coat of oil. Oiling is however not a necessity for teak wood.
For stubborn stains
If your furniture is stained, consider one of the following options:
Grease spots have appeared on the furniture: This is a natural feature of the wood and grease spots should gradually disappear after being exposed to sunlight. However, should you wish to remove these blemishes, we recommend using a degreasing agent and gentle scrubbing with a brush. Rinse off with clean water. Persistent grease spots can be removed by using a mixture of weak bleach, natural soap and water.
The furniture has developed mildew spots or black blemishes: This is usually the result of rainwater or sometimes sap dripping from the leaves of trees onto the wood leaving dark marks and spots. Ideally, we recommend the furniture is not placed under trees. However, these marks can be removed by lightly sanding with fine sandpaper.
You spilled wine or something else leaving persistent stains: For wine stains, we recommend using mentholated spirits to wipe the area clean. Candle wax for example can be removed by placing brown paper over the wax mark and pressing with a warm iron. This will melt the wax, drawing it out of the wood and onto the paper.